Load & Go Ready Mixed Truck Wash
The Load & Go Ready Mixed Truck Wash is an automated drive-through concrete truck wash system that is highly specialized to thoroughly clean the entire mixer in 45-60 seconds, using around 130 litres of water.
Save Time – Improve Safety – Increase Profits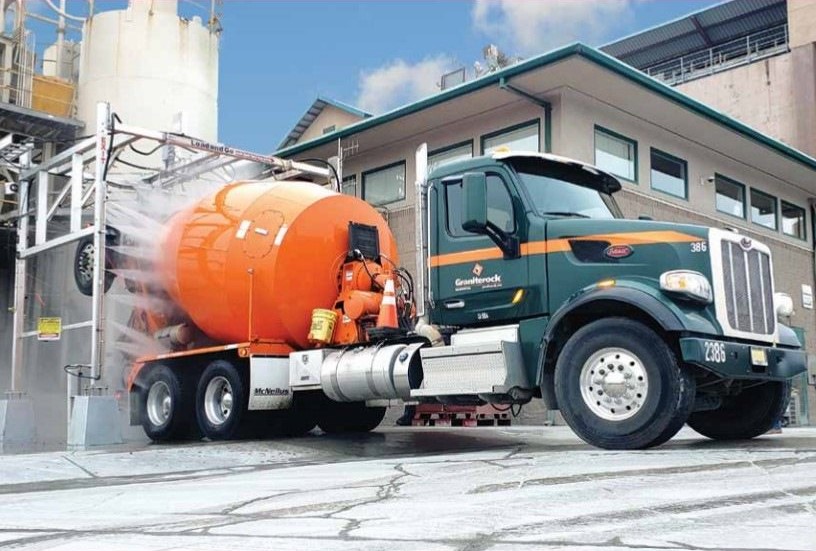 About Load & Go
The Load and Go Ready Mixed Truck Wash® is the result of 30 years of industrial high-pressure wash experience. The system has been designed to completely replace the need for a mixer driver to exit the truck in order to wash down after the loading process. Since 2008 we have been effectively cleaning mixers (both front and rear discharge) at wet and dry batch plants across the country. Concrete producers of all stripes have proven this system makes sense for almost all ready-mix operations because it:
Speeds delivery/Reduces labor cost
Improves QC by tightly controlling the volume of wash down water entering the mix (5.5-6.5 gallons of water)
Thoroughly cleans the mixer (45-60 seconds)
Improves safety
Reduces fuel costs
Reduces maintenance costs
Reduces chemical costs
Productivity & Profits
The Load and Go Ready Mixed Truck Wash® is an automated concrete truck wash system that will save you money due to the following benefits:
Thorough wash in 45-60 seconds (typical process takes 5-10 minutes)
Reduced water use (130 litres on average)
Increased quality control (consistent water in the mix)
Increased driver safety (no climbing/stretching)
Cleaner mixers (fewer cracked windshield claims and better public image)
How It Works
The Load and Go Ready Mixed Truck Wash® is an automated drive-through wash system that is highly specialised to thoroughly clean the entire mixer in 45-60 seconds, using around 130 litres of water. These amazing results are achieved by utilising 72-88 high pressure nozzles to deliver 1,200 PSI water jets to the entire mixer.
Various types of nozzles are specifically designed and precisely aimed to remove cement dust and concrete build up from all areas of the roller pedestal including the drum, hopper, chutes, fenders and even the discharge blades in the drum. T
The system's PLC is triggered and controlled by the Interactive Mixer Position Recognition (IMPR), which relays truck position to the driver through an intuitive red/yellow/green signal light. Utilising up to 6 different wash stages, the Load and Go Ready Mixed Truck Wash® ensures that every part of your mixer (cab included if desired) is clean when the driver pulls through.
Compare that to a normal plant washout station with a single high-volume, low-pressure hose using a 4 litres every 1-2 seconds for 5-10 minutes! This patented system is greatly reducing cycle times and increasing driver safety around the world.
By placing extreme high-pressure water directly to the point where it is needed; we can now completely clean the mixer with far less water in much less time. Most systems average 130 litres of water during a 45 second cycle compared to a driver using a 4 litres every 1-2 seconds over 5-10 minutes: depending on flow rates, that could be anywhere from 600-2,400 litres!
Load & Go Frame
Manufactured using stainless, galvanized, and aluminum
72 – 88 nozzles directing 1200 psi water
Can be mounted on galvanized steel bases or concrete walls
Footprint 12′ long x 15′ wide
Can accommodate front and rear discharge mixers
No moving parts = low maintenance
Winterization mode and HUDS are standard
Load & Go Pump / Motor Assembly
30 hp motor powered by 240V, 480V or 600V
Cat Pump delivers 45 gallons per minute
50 gallon water reservoir with float valve
Spin-down filter
Load & Go Panel with PLC
Touch Screen PLC by Siemens
Has the flexibility to accommodate any style mixer and/or other vehicles in your fleet
By automating the wash down process you will be cleaning every mixer the same way every time… very, very thoroughly. The Load & Go achieves these results through its patent pending mixer position system which requires every mixer to use the Load & Go the same way despite the driver's personality.
Consistent Results are a Product of Consistent Processes
1. Entry Wash
A series of fanned out nozzles creates a 270-degree arch cleaning the cab, the wheels and the drum as the mixer slowly moves into position.
2. Primary Hopper Wash Cycle
The light will turn red and mixer will stop moving – if it passes the "Red Zone "the light will flash red telling the mixer to back up. Only when the mixer is completely stopped in the "Red Zone" will the hopper wash cycle begin. Note – This is the cycle that adds water to the mix.
3. Rear Pedestal Wash Cycle
Light stays Red, mixer holds as rear pedestal wash hits those hard-to-reach places.
4. Exit Wash Cycle
Light turns Yellow and mixer slowly exits as the Load & GO does a final sweep.
Performance Statistics
Total Water Use Per Wash:
Complete Mixer: 130 litres.
Water introduced to mix: Less than 40 litres.
(Example: 10 sec hopper wash = 24 litres.)
Wash Time:
Complete Mixer: 60 seconds
Improve Safety
The wash down process is statistically the most dangerous part of a mixer driver's job. The Load and Go Ready Mixed Truck Wash® completely eliminates the need for the driver to exit the cab to wash the mixer. Gone are the days when a driver was required to exit the vehicle in a high traffic area, climb a wet ladder and lean over a spinning drum to reach all the hard to access points. Now instead of paying drivers to waste time in a dangerous spot, producers across the country are keeping them in the cab and getting them out the gate.
Additionally, by keeping the mixers extremely clean with high-pressure water there is reduced need for dangerous chemicals benefiting drivers and equipment. Less residual buildup also means less chance for concrete debris to come loose while mixers are on the highway causing cracked windshields and other damage.
This is one of the rare times in business when the safest way to do a job is also the better way as well as the fastest way!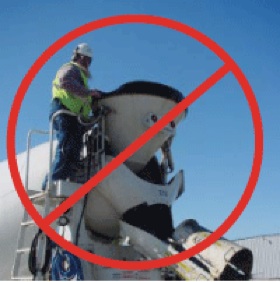 Save Water/Improve QC
Reduce EPA concerns. With the Load and Go Ready Mixed Truck Wash® you'll be using less water – typically between 130 litres. This system has greatly reduced washdown water usage in every operation that has installed it.
By using high-pressure water, the system consistently does a much better job of cleaning mixers with far less water. Less total water used means less to divert, capture, store and treat. In today's climate of ever-tightening environmental oversight, managers need to consider any tool that can offer relief. Simply put, this is the right tool for the job.

Ideal Customer
YOU are the ideal Load & Go customer if….
You have ready mix trucks
You wish your fleet looked better
You would like to reduce your "cost per yard"
You would like to reduce exposure to slips/trips and falls
You would benefit from an operation that uses and creates less water
Since the inception of the Load & GO in 2008 we have seen a wide variety of customers benefit from the automating the wash down process. Contrary to our initial projections, a majority of Load & GO systems are installed in dry batch plants with fewer than 20 trucks.
If you have never seen a Load & GO first hand, we will put you in touch with someone close to you…every customer is a reference.
Pricing
The Load and Go Ready Mixed Truck Wash® can help any concrete producer deliver more concrete faster – load after load and year after year. Contact us by phone or email for current pricing including professional installation that comes with a 1-year written warranty.
A short conversation with one of our staff will provide all that we need to prepare a customized proposal for your operation. After your approval, we can conduct a site visit to further solidify installation plans and time frame. Typically, we can begin a 2-day installation process within 3-4 weeks from the date of order. Given average concrete production and average system costs we expect your system to easily pay for itself within the first season of use.
Contact us and we can begin preparing the customized proposals for your locations.
Increases Productivity
Increases Safety
Better Quality Control
Increases Profit/Yard
Reduces Labor Costs
Reduces Fuel Costs
Reduces Maintenance Costs
Reduces Water Waste
Reduces Capital Expenditures
Proven Benefits
Consistently clean mixers
Because the entire process is automated, the Load & Go Ready Mixed Truck Wash System can be dialed in to address the mess your plant is making while batching.
Better yet, this process can be duplicated on every mixer with every load. The Load & Go uses up to 108 different nozzles that direct 1000 PSI water jets to every inch of the mixer.
Reduce "boot to gate" Time
The Load & Go thoroughly cleans the mixer in less than one minute allowing your drivers to be delivering concrete and not wasting time in the yard. Additionally, the Load & Go eliminates the washdown area being the bottleneck even on dual lane plants.
Clean from the gearbox to the back in 30 seconds (on a rear discharge mixer) and/or the entire mixer in less than one minute (front or rear discharge).
Improves Safety
The Load & Go allows the driver to safely remain in the cab during the washdown process. This eliminates exposure to slips, trips and falls related to this process and makes the job of operating a mixer truck a little easier.
Creates less processed water
The Load & Go uses high pressure to blast the material off the mixer vs. the single hose using high volume to "flood" the build up until it washes away.
The end result is 70-80% less processed water hitting the ground on every load.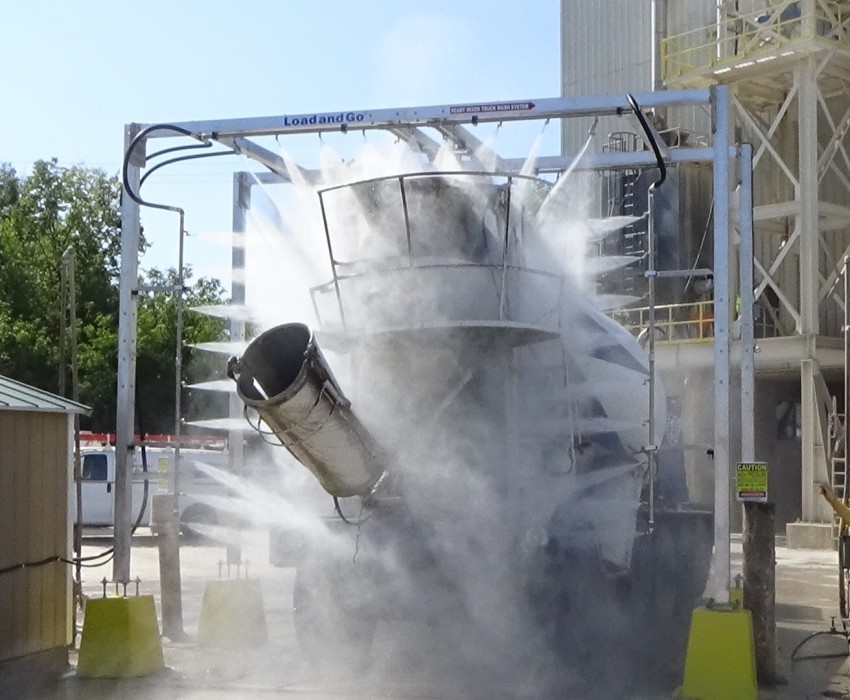 Model LG2200
More of what you love about the Load and Go, and then some.
More programmable flexibility, increasing the "angles of attack"
Same footprint as the LG1800, but with more power and control
Dual cantilevered frame, increases coverage by 63%
10 solenoids vs 4 on the LG1800
50% more nozzles totalling 108
Custom machined rotating nozzles
Why the LG2200 is better
50% more nozzles (72 to 108)
Not just any nozzles…After researching and documenting the impact pressure and range of the hundreds of nozzles available, our engineering team selected the ideal nozzles to clean every part of the ready mixed truck. The LG2200 uses a combination of fanned out, direct bore, hydro knife, turbo and rotary nozzles which creates the most efficient ready mixed truck wash to date.
Increased Number of Solenoids
The results of going from 4 solenoids on the LG1800 model to 10 solenoids on the LG2200 is arguably the most influential change and can be seen by two areas of improvement:
Creating 6 additional groups of nozzles allows for a more precise top-down and front-to-back wash while the mixer is in the stopped position. This creates the effect of a moving gantry-style wash without having moving parts.
Fewer higher flow nozzles per cycle dramatically increases the range and impact pressure resulting in a system that cleans more in less time, while using less water.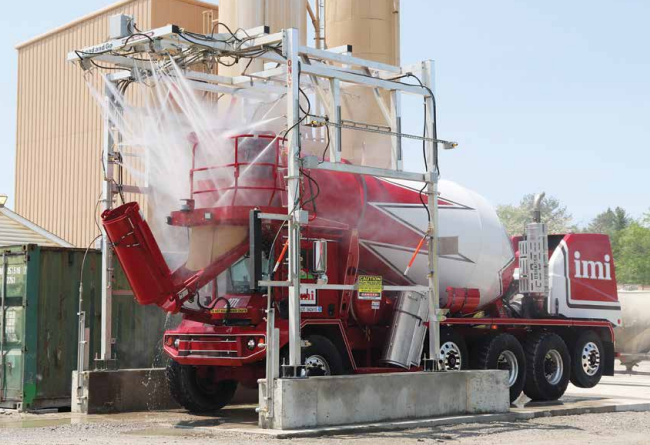 What our clients are saying
"I can confidently say that automating the washdown process keeps our fleet looking better, gets our mixers out of the gate more quickly, and has greatly helped with the processed water issues we were having.
The Load & Go has been a good investment and we look forward to adding several more in the near future."
Jeff Cathey
Maschmeyer Concrete
Lake Park, FL
"We put our Load & Go in after seeing it at the World of Concrete.
The biggest return we have seen is the ability to get the loaded trucks out of the yard fast. Plus Q.C. has an easier time dealing with one plant operator to keep the slump accurate without drivers adjusting each load."
Joe Zignego
Zignego Company
Waukesha, WI
"We have calculated time savings of over 12 minutes per load since we installed our Load & Go under our central mix plant. We are getting a lot less wet loads and creating a safer work place for our drivers. Putting in a Load & Go was a great idea!"
Buddy Jenkins
Allied Concrete Co.
Charlottesville, VA
"At first some of the more veteran drivers were skeptical, but once we got our Load & Go dialled in… it didn't miss a spot.
Now the drivers love the Load & Go and I love seeing clean mixers leaving the yard instead of 3-4 drivers washing down with a hose at the slump rack."
Roger Lawshe
Sierra Ready Mix
North Las Vegas, NV