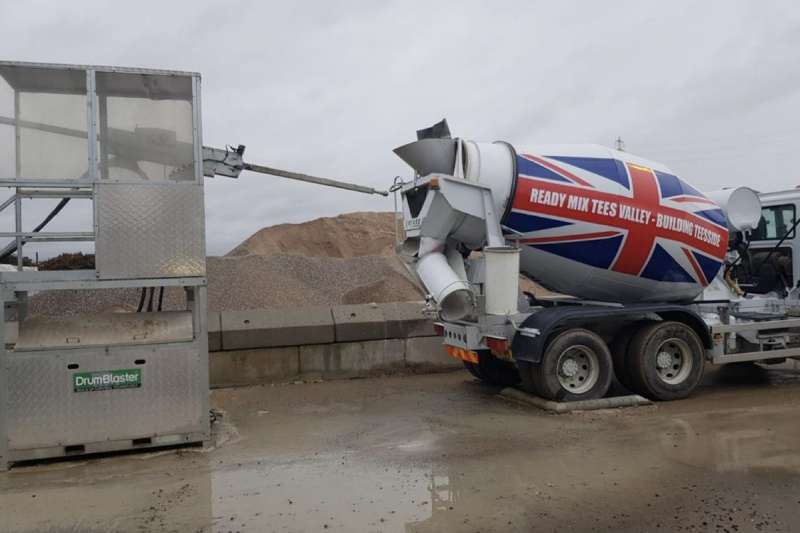 Ready-mixed concrete firm improves safety and efficiency with DrumBlaster Build-up Control Technology (BCT)
READY Mix Tees Valley have become the first independent provider of ready-mixed concrete in the UK to install DrumBlaster at their concrete plant in Middlesbrough. Supplied and installed by ADC Trucks, DrumBlaster addresses safety and efficiency issues that have plagued the mixer truck industry for many years.
According to ADC Trucks, use of DrumBlaster Build-up Control Technology (BCT) for a few minutes each day is proven to reduce build-up by 85%, mitigating the personal risk and requirement for regular drum entry to manually remove the build-up of concrete.
Safe and simple to use, drivers simply reverse up to the bump stop and activate the fully automated system with their dedicated key fob. The fob is linked to the DrumBlaster monitoring tool to record usage and allow management to standardize and monitor the build-up control process.
Jim Greenwood of Ready Mix Tees Valley said: 'We run 10 mixers daily out of our new dry batch plant, having previously used a wet batch plant for the last 11 years. We were struggling with daily build-up because of the dry batch process. I made the decision we needed to buy a daily drum cleaner and started looking into the market.
'DrumBlaster was the obvious choice; its cost-effective and requires minimal loading hopper modifications. We have now run the system for three months. We cleaned all the trucks out manually before it was installed.
'I have personally inspected the inside of every truck and have been amazed by the results. Not a single trace of build-up, even on the backs of the capped blades of the Hymix and McPhee trucks.
'I am opening a new plant in Leeds in 2020 and have already ordered a DrumBlaster for the new site.'
DrumBlaster incorporates an extendable boom with a rotating head, allowing the mixer drum to remain stationary. Using recycled or fresh water, the highly efficient electric-driven pump combined with the water jets at the tip of the boom remove the day's build-up before it hardens.
The system is designed to accommodate multiple mixer drum configurations and can be customized to suit site requirements.
One of the major advantages of DrumBlaster is that only minimal, if any, modification is required to the mixer truck, with no need to swing out or remove the loading hopper from the mixer.
Fuel savings, increased tare weights and improved life of the mixer drum are cited as a few more of the many benefits to be realized with DrumBlaster.
Categorised in: Latest News