NorthConnex batch plant in Sydney Australia shows the way.
Cross-contamination can cause major problems for concrete producers. When trucks are not properly cleaned between deliveries of different types of concrete, residue from one batch can infect a later load formulated for a different purpose.
To eliminate cross contamination on Australia's longest road tunnel project, concrete provider BORAL is using the world's most effective technology, a DrumBlaster washout system, to clean concrete delivery truck drums at its Mt Kuring-Gai batching plant.
The plant supplies concrete to the twin NorthConnex 9.5km (5.6 mile) tunnels being constructed to link major road arteries in Sydney's north. DrumBlaster's unique driver controlled washout was developed in Australia and is now available in the US and Europe.
NorthConnex will use about 160,000 cubic metres (208,000 cubic yards) of concrete for structural and nonstructural elements. An additional 200,000 cubic metres (260,000 cubic yards) will line the tunnels. The batching plant was established under strict operating parameters that include no contamination between different loads of concrete, so it was essential to thoroughly wash out truck mixer drums between differently formulated concrete loads.
The project also required the most effective washout system to minimise build-up of concrete residue in the drums from the high strength mix and admixtures being used. With the batching plant operated by four separate crews 24 hours a day, seven days a week, the system had to be easy to operate for different users.
BORAL chose the DrumBlaster washout system for Mt Kuring-Gai after successful trials in Sydney and Melbourne and it has already proven much more effective than washout equipment previously available.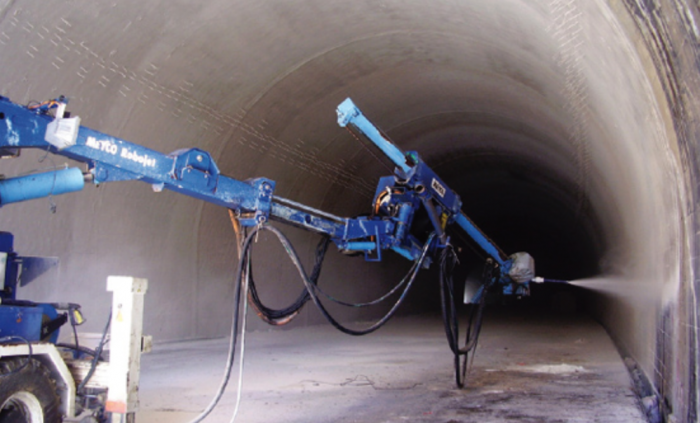 ABOVE: Shotcrete application at the NorthConnex Tunnel
For more information on the NorthConnex project and the BORAL batching plant, please click here.
Categorised in: Latest News